Multifunctional Cup Holder
Our Multifunctional Cup Holder conveniently allows you to turn one cup holder into four or one into two. The grip has the function of expanding and shrinking, can be rotated 360 degrees, and secured to prevent spills with a non-slip silicone sheet attached to the edge of the fixed key.
NON-SLIP COATING
Our Multifunctional Cup Holder is composed of thick, strong, and long-lasting ABS plastic with a non-slip coating. This can lessen vibration when driving on the road and keep the water cup from overflowing while driving With its 73-150 mm top cup diameter and 66-100 mm base, it may easily be adjusted to fit your needs.
PRACTICAL GIFTS
Our multifunctional cup holder can be adjusted to accommodate a range of cars, trucks, trailers, and golf carts. Given that it might organize the little stuff in your car and reduce time spent seeking for things, this is a practical gift for family and friends.
DURABLE AND STABLE
Utilizing a specific non-slip silicone layer and thick, solid, and durable ABS material will reduce vibration and friction when driving on the road and stop the water cup from spilling while driving.
EXPANDABLE BASE
The multifunctional cup holder's base can be adjusted, and it has a telescopic diameter of around 66–100mm. It is made for most automobile models, and the edge of the fixed key is pasted with a non-slip silicone sheet.
How to increase the slip resistance of your base.
Fill any gaps between the installation location and the cup holder base with a sponge pad to lessen vibration and increase the stability of the cup holder.
Easy to use
After adjusting the cup holder's base to a suitable position, place it in the original car cup holder, and finally rotate the cup holder to pop out the fixed key in the base until it is fixed; it is recommended not to store a cup or kettle that is too high, and avoid storing the cup in a container with a movable top so that it does not fall out when braking.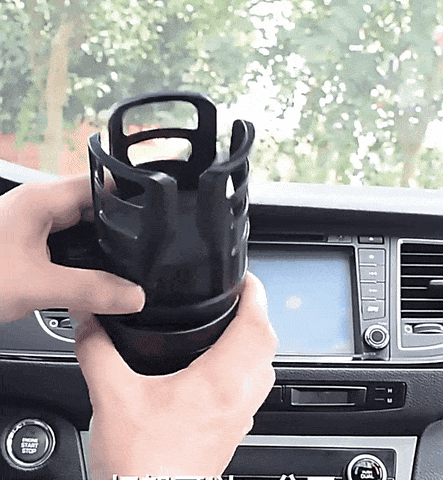 Installation Method:
Installed in the original car cup holder
Find a suitable cup holder, then adjust the base of the cup holder suitable position and then put it into the original car cup holder, and finally rotate the cup holder to pop out the fixed keys in the base, until it is fixed