It is a GREAT foam cleaner that can magically make your car interiors or home appliance look like new one!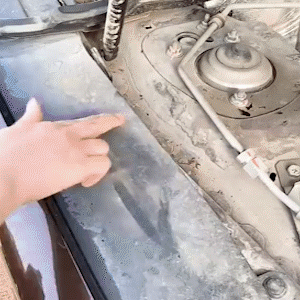 With the new foam technology, this spray penetrates and removes the toughest stains from all surface items in two steps.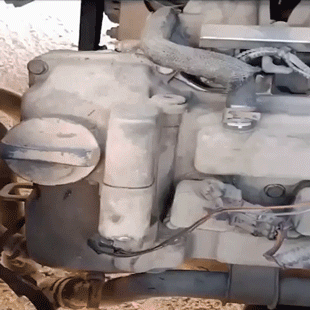 Tips: No harm to the car interior!!
This is an multi-surface cleaner producing a penetrating foam that takes on grime where it hides.

It effectively eliminates grease,stuck-on dirt,dust, fingerprints and any unwanted stain on all surfaces, leaving a non-greasy, matte finish that prevents fading,discolourationand cracking - just like the day you bought it! .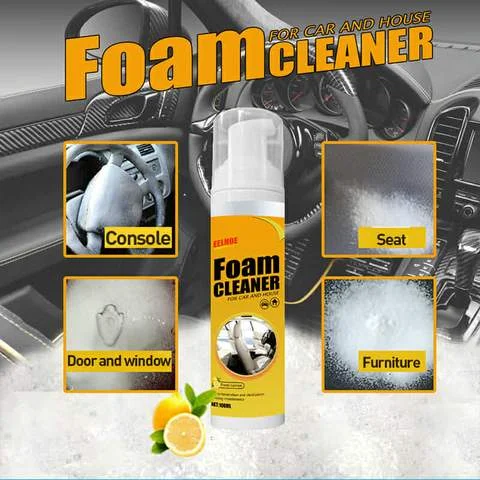 MAIN FEATURES:
HYDROPHOBIC & HIGH GLOSS
Our product provides a hydrophobic coating on the surface, the layer coated on the surface can be used for against fading, discoloration and cracking from harmful UV rays protection.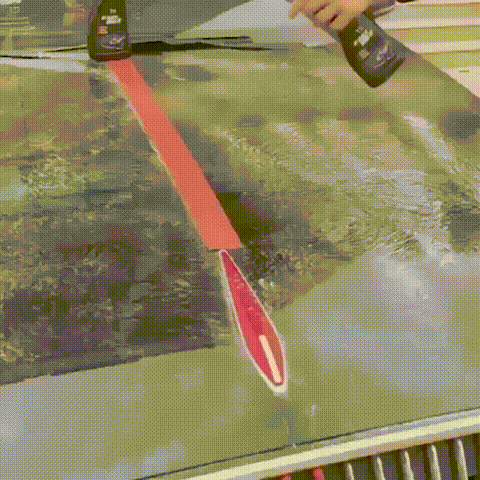 FOG FREE
It leaves a clean clear layer of anti-fog protection on your lens. Use Fog-Free daily for the best results.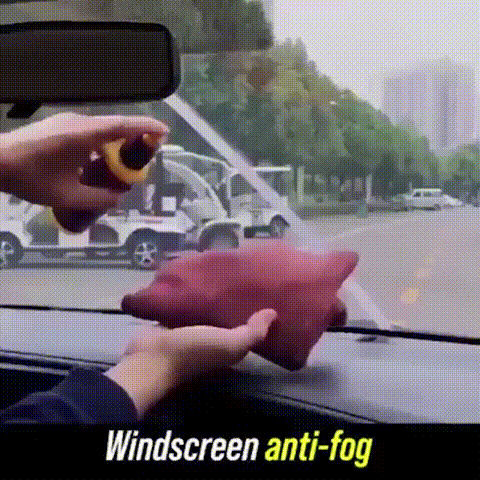 🚗Like New One:
Multi-purpose Foam Cleaner make your car interiors and house look like new one! Easily remove even ground-in dirt and grime. Wipes won't dry out, damage or fade.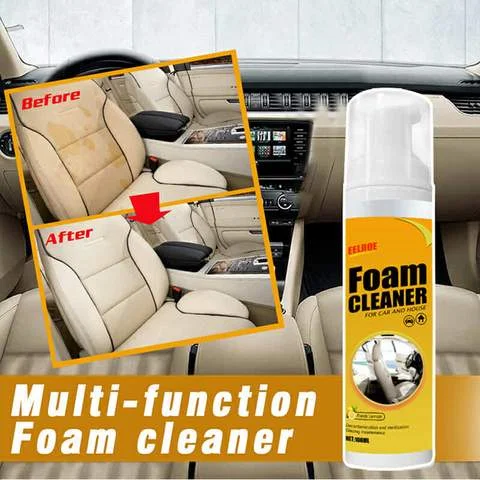 🚗Safety Protection:
Fights fading,aging,cracking, and provides UV protection. all purpose car interior cleaner are perfect for your furnishing and car's dash,vinyl, consoles, leather car detailing and more.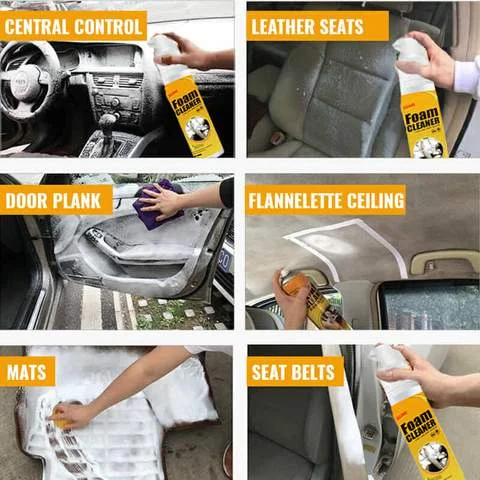 🚗High Quality:
Mild and effective concentrated formula,Non-toxic and non-hazardous natural ingredients can emulsify the grease and grime on contact effortlessly with dense foam,no injuries to hands or articles, safe and fast.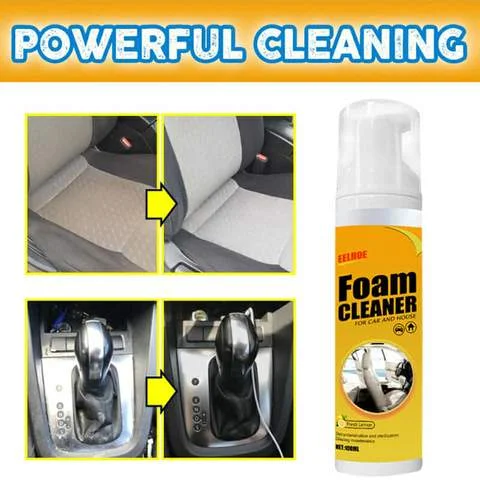 Protective coating against high temperatures Burns polishing during cleaning to protect items from discoloration and cracking under high heat.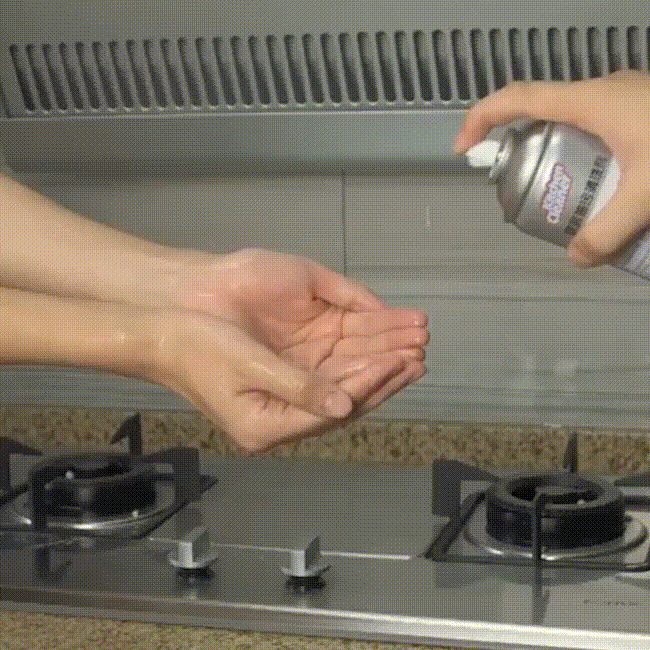 Widely Applicable, works on all surface including fabric, canvas, finished leather, PVC, glass, vinyl, plastic, rubber, metals, wood, gel coat, fibre glass and more!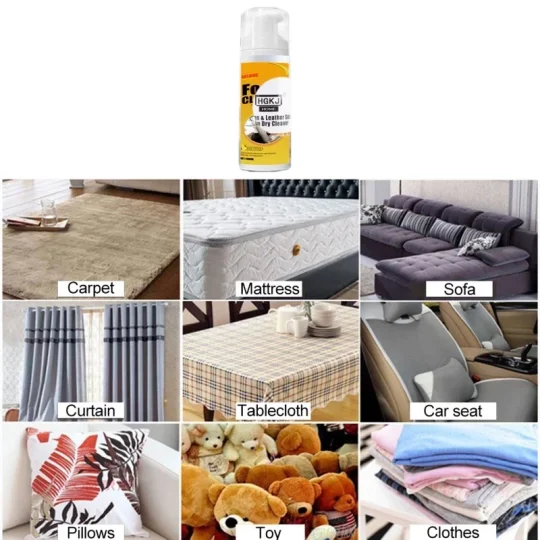 🚗Easy To Use :
Just directly spray cleaner on the desired area. Use towel or sponge to wipe until the stain is removed. No rinsing is required.Just wipe away foam with a towel after cleaning.
All-round cleaning without omission, do not damage the surface of the object and can effectively inhibit the growth of bacteria.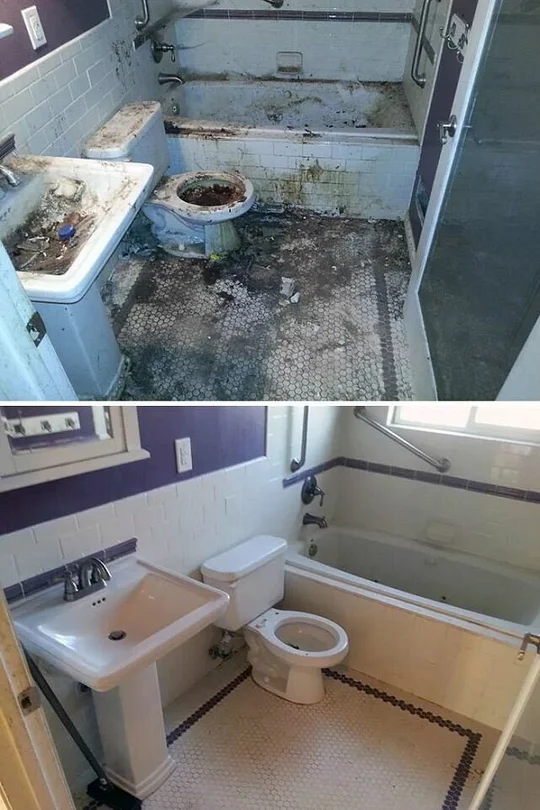 🚗Multi-purpose:
A practical cleaning tool to solve the grease messes.Suitable for a wide range of surfaces in the vehicles,and more. Such as fabric, finished leather, glass,rubber, metals, gel coat, etc.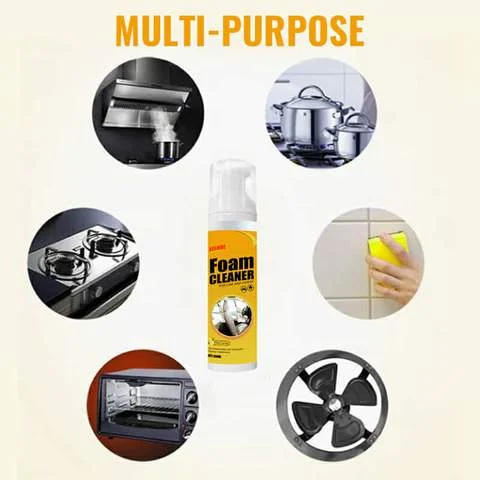 PACKAGE INCLUDES:
HOW TO USE:

1. Spray the product on the surface of the object to be cleaned.

2. Wipe the surface with a towel or sponge.

3. Rinse the surface with clean water.

4. Clean the towel or sponge in time after use.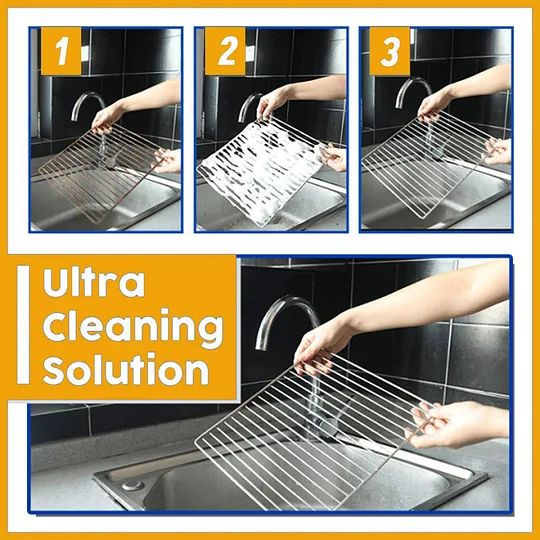 Customer Questions & Answers
Q:What harm will it do?
A:It is made of natural, non-toxic and non-hazardous ingredients and has no bad effects on the environment.
Q:Does this product only clean fiberglass showers and tubs?
A: NO! Widely Applicable, works on all surface including fabric, canvas, finished leather, PVC, glass, vinyl, plastic, rubber, metals, wood, gel coat, fibre glass and more!
Q:Will this remove stains from concrete kitchen counter tops?
A:Yes. Also, works great on linoleum floors and in bathrooms.
Q:Can you use this on leather?
A: I mainly used it on the carpets of my car and they came out wonderful and almost like new. I also used it on the leather seats of my car and they too came out great. Now I did not saturate the material in this but on the leather I more or less just sprayed it on, let it sit for a few minutes and wiped it off. Don't recall suggested uses on can but I used it and it was fine.
Q:Can it eliminate odors in car upholstery?
A:I used it to remove shrimp juice from the back of my husband's vehicle, and there was quite a stench. I applied it one times using a amount of, which was well worth it because the terrible smell is gone.
Note:
Due to manual measurements, please allow slight measurement deviations.
Due to the different display and lighting effects, the actual color of the item may be slightly different from the color displayed in the picture.
Remind:
Dear customer, thank you very much for your patronage. Please confirm the consignee, receiving address and contact phone number before placing the order so that the postman can deliver the package accurately and reduce the probability of loss. Thank you very much for all the work you have done in this shop. All the staff wish you all a happy life! ! !
Seller Message:
Dear customer,
If you encounter any problems during the purchase process, please communicate with the online staff first, and we will try our best to solve all your problems. Thank you very much for your patronage! I wish you a happy life!
Sincerely,
Seller